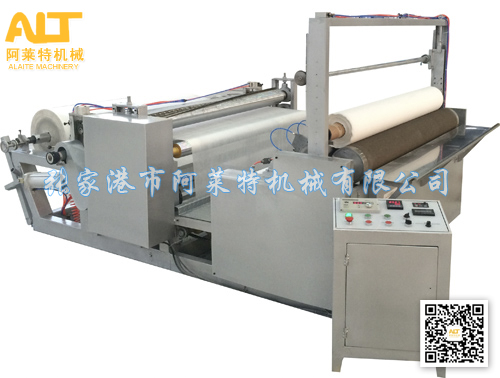 Performance characteristics
Automatic rewinding punching machine adopts advanced PLC computer programming and automatic detection technology, frequency control, variable speed adjustment, electronic brake, man-machine interface operation and a variety of functional devices; automatic rewinding punch instead of the previous Manual and manual semi-automatic rewinding. Effectively improve the efficiency, reduce and save the workload and wages of workers, is the enterprise directly reduce the cost of production is indispensable fully automated production equipment. In order to customer demand for product length and width. A second rewinding operation is performed on a cling film, a wound film, a stretched film, an aluminized film, a paper sheet, a nonwoven fabric, or the like. Replacing the previous manual operation and artificial semi-automatic work. To improve the cumbersome and heavy work procedures and manual labor and the lack of labor and the embarrassing situation and reduce unnecessary expenses, improve work efficiency, so as to achieve the purpose of reducing production costs. Easy to operate, safe.
Overall part description:
The whole part: rack 8 # channel welded together.
Feed section: magnetic brake, manual tension controller to adjust the tension.
Feeding part: Pneumatic synchronous loading.
Traction part: pneumatic steel roller and roller traction, and equipped with AP125 speed adjustable on the speed and meters.
Punching part: Punching length 100-2000 adjustable. (Can also RBI can not RBI)
Rewinding part: roll length: 1100mm.
Guide part: with aluminum alloy guide roller.
Slitting part: pneumatic knife cutting, the size of any adjustable (with 10 sets of cutting knife).
Unwinding part: unwinding inflatable shaft φ76 = 1 root.
Winding part: Winding expansion axis φ76 = 1 root.
Count part: electronic digital counter, can be measured length, can be measured meters (and with automatic parking).
Raw material diameter: ≤ φ1200mm.
Raw material width: ≤ 1100 mm.
Finished diameter: ≤ φ600.
Mechanical capacity: 0-80 m / min.